Mané Alves – Coffee Lab International's School of Coffee offers Q-Grader courses and exams, calibration classes, cupping, roasting, and barista courses to coffee professionals and enthusiasts. Based in Waterbury, Vermont, USA, Coffee Lab International has been an operational specialty coffee laboratory, roasting and teaching facility since 1995. The unique facility integrates a state-of the art laboratory setting with a working coffee roastery and classroom facilities all under one roof.
Mané has worked in the wine and coffee industries for over 25 years. He travels extensively to coffee producing countries throughout Central America, South America, Africa, & Asia where he conducts calibrations tests, speaks & teaches seminars on coffee production & quality standards, and offers Q Grader courses. As a certified Q Instructor as well as an International Coffee Tasting Judge, Mané's reputation as a distinguished cupper & instructor is unparalleled.
Mané, a member of CQI since its inception & a past director of SCAA's Technical Standards Committee, founded CLI's sister companies: Vermont Artisan Coffee & Tea, a micro coffee roaster, in 2001, and CLI's School of Coffee in 2004.
A native of Lisbon, Portugal, Mané loves to share his passion for coffee. His wife Holly is President of the company, and lives with him and their 2 teenage daughters in Waterbury Center, VT.
Xen Coffee
, Co-founder of
Sensory Artisan
, the first certified CQI Licensed Q Grader in China & Hong Kong by Coffee Quality Institute (CQI), a SCAA Specialized Instructor & Examiner. Dixon is Co-chair of Judge & Standards Working Committee of Hong Kong Professional Coffee Association (HKPCA), serving as the national coordinator of World Coffee Events (WCE) & World Siphonist Championship (WSC) for Hong Kong. Dixon is 
2013-2018 Certified WCE Judge
 in World Barista Championship (WBC), World Brewers Cup (WBrC), World Latte Art Championship (WLAC), & World Coffee in Good Spirits Championship (WCIGS), and also a Certified Judge in World Siphonist Championship 2013-2016 (first WSC certified judge in China / Hong Kong). Dixon served as:
Representative, World Coffee Events 2017-2018
Assistant Q Instructor, Coffee Quality Institute 2016 Portland, USA
Head Judge, Korea National Brewers Cup Championship 2017-2018 (Korea)
Sensory Judge, World Coffee Roasting Championship (World) 2016 Shanghai, China 2017 Guangzhou, China
Sensory Judge, World Barista Championship (World) 2013 Melbourne, Australia 2015 Seattle, USA 2017 Seoul, South Korea
Taste Judge, World Coffee in Good Spirits Championship (World) 2013 Nice, France 2014 Melbourne, Australia 2016 Shanghai, China
Visual Judge, World Latte Art Championship (World) 2013 Nice, France 2014 Melbourne, Australia
Sensory Judge, World Siphonist Championship 2013-2014 Tokyo, Japan (World)
Sensory Judge, National Barista Championship 2017 New Zealand, 2017 Japan
Technical Judge, Japan Siphonist Championship 2013 (Japan)
Head Judge, Korea National Brewers Cup Championship 2017-2018
Judge, United States Brewers Cup Championship 2014 (USA)
Lead Instructor, Hong Kong Siphonist Championship Judge Certification Workshop 2011-2015 (Hong Kong)
Lead Instructor, China Siphonist Championship Judge Certification Workshop 2013 (China)
Instructor, Hong Kong Barista Championship Judge Certification Workshop 2014-2015 (Hong Kong)
Head Judge, China Siphonist Championship 2012-2013 (China)
Head Judge, Hong Kong Siphonist Championship 2011-2014 (Hong Kong)
Head Judge, Hong Kong Barista Championship 2013-2015 (Hong Kong)
Head Judge, Hong Kong Brewers Cup Championship 2015 (Hong Kong)
Technical / Sensory Judge, Hong Kong Barista Championship 2011 / 2012 (Hong Kong)
Head Judge, Indonesia Latte Art Championship 2014 (Indonesia)
Head Judge, China Latte Art Championship 2014 (China)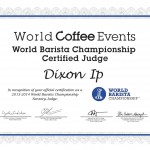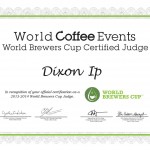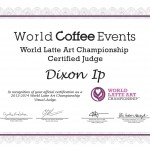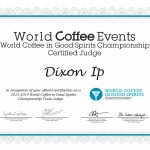 Chinese:
Dixon Ip 葉文正先生 – 感味宮匠,COFFEE Lab Asia 及 Xen Coffee 創辦人。中國及香港首位獲得美國精品咖啡協會SCAA及咖啡質量研究所CQI 認證的 CQI Licensed Q Grader杯測裁判及咖啡鑑定師資格。SCAA 認證特種導師及考官。香港咖啡行業協會評審及標準工作委員會聯合主席,為世界咖啡賽事WCE 及世界虹吸咖啡師大賽WSC 香港區域協調員。WCE 及SCAJ 賽事國際裁判:世界咖啡師大賽WBC,世界拉花大賽WLAC,世界咖啡與美酒大賽WCIGS,世界虹吸式咖啡師大賽 WSC及世界手冲咖啡大師賽WBrC國際認證裁判。
曾擔仼﹕
CQI Q 咖啡品質鑑定師認證課程助理講師 2016 美國波特蘭
WCE Rep, 韓國咖啡師大賽 2017-2018
世界咖啡烘焙大赛 WCRC 裁判 (世界賽) 2016 中国上海
世界咖啡師大賽 WBC 感官裁判  (世界賽) 2013 澳洲墨爾本 2015 美國西雅圖
世界拉花大賽 WLAC 視覺裁判 (世界賽) 2013 法國尼斯 2014 澳洲墨爾本
世界咖啡與美酒大賽 WCIGS 嚐味裁判  (世界賽) 2013 法國尼斯 2014 澳洲墨爾本 2016 中国上海
咖啡師大賽 WBC 感官裁判 2017 新西蘭 2017 日本
世界虹吸式咖啡師大賽 WSC 2013-2014 感官裁判 日本東京 (世界賽)
日本虹吸式咖啡師大賽 WSC 2013 技術裁判 (日本)
韓國手冲咖啡師大賽 KNBrC 2017-2018 裁判長 (韓國)
美國手冲咖啡師大賽 USBrC 2014 裁判 (美國)
中國虹吸壺大賽 CSCW 2013 評委認證工作坊 首席培訓導師 (中國)
中國虹吸壺大賽 CSCW 2013 裁判長 (中國)

香港虹吸式咖啡師大賽 HKSC 2011-2015 評委認證工作坊 首席培訓導師 (香港)
香港虹吸式咖啡師大賽 HKSC 2011-2014 裁判長 (香港)
香港咖啡師大賽 HKBC 2014-2015 評委認證工作坊 培訓導師 (香港)
香港咖啡師大賽 HKBC 2013-2015 裁判長 (香港)
香港手冲咖啡師大賽 HKBrC 2015 裁判長 (香港)
香港咖啡師大賽 HKBC 2011 技術裁判 2012 感官裁判 (香港)
印尼拉花大賽 ILAC 2014 裁判長 (印尼)
中國拉花大賽 CLAC 2014 裁判長 (中國)
香港大學通識教育 咖啡課程講師
香港中文大學專業進修學院 咖啡課程講師
香港理工大學香港專上學院 咖啡課程講師
Cindy K Ng – COFFEE LAB Asia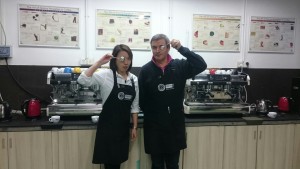 CQI Licensed Q-grader
Authorized SCA Trainer
Authorized SCENTONE Coffee Flavorist Trainer
SCAA Specialized Instructor
SCAA Certified Lead Instructor
Lab Manager, Crema COFFEE Lab – SCAA Certified Lab
Sensory Judge, Hong Kong Brewers Cup Championship 2017
Competitor trainer, Hong Kong Siphonist Championship 2016, 2015, 2014
Sensory Judge, Hong Kong Barista Championship 2016,2015
Technical Judge, Hong Kong Barista Championship 2014